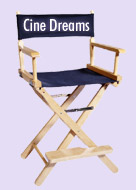 cine dreams is india based film & video production house having base at mumbai & new delhi! we can act local production fixer /production coordinator for independent documentary filmmakers , ad agency , television series looking for line production coordination anywhere in india & hyderabad or rajasthan ! we can assure highest standards & quality results are our supreme priority ,So far we have very successfully done projects in major cities of india and provided one stop production shooting coordination ! all equipment & grip rental , location scouting services , bollywood studio shooting or filming permits , talent casting agency , hospitality,logistic can be arranged in whole of india namely goa , kerala , bangalore & chennai !
we deeply understand that every project has a unique set of objectives, specific requirements therefore we take great precaution in accessing the specific creative and production needs & other parameters keeping in mind the budget and dead lines ! Our sharp strategic planning and in-depth knowledge of local resources will execute any project in most effective and organized manner! experienced crews truly professional & reputed in bollywood cinema & media industry !
we can be your local production coordinator in india in any cities jaipur , jodhpur , udaipur & jaisalmer , varanasi , any kerala cities cochin or trivandrum and not to say we are comfortable with documentary production to tv commercial productions or be it full scale hindi films or video production , talent casting or location scouting or simple still fashion photo shoot we do all With passion !